Youth Ministry at St. Luke's Church is all about creating a safe place for 6th through 12th graders to learn about God and to prepare them to take their faith into the world. Through outreach efforts, meaningful small group time, "hanging out," and investing in their faith life, these middle and high school students have a special place within St. Luke's Church.
SUMMER YOUTH GROUP GROUP
Youth Group will be meeting on Sunday evenings in the youth room.
● Middle School meets from 5 – 6 pm
● Group meal on the sports court from 6 – 6:30 pm
● High School meets from 6:30m – 7:30 pm
Summer classes begin June 5th! This summer, our lessons will focus on old testament history and the lives of the prophets. It should be interesting and informative!
FUN EVENTS
July 24th: Youth Group Movie Night. Instead of our regularly scheduled youth group both middle and high school students will meet in the youth room for a movie night! Popcorn and snacks will be provided. This event will take place from 5 – 7:30pm
August 14th: Back to School Party. Time and Place TBD
SERVICE EVENTS
June 11th: Youth group students and their families have a chance to volunteer at the Witte museum garden doing upkeep and beautification projects. The volunteer session will last from 8:30 am -12 pm, and afterward, students can go inside the museum! Water and snacks will be provided for all participants.
VIRTUAL BOOK CLUB
On Wednesday nights, from June 15th – July 27th, the youth have the chance to meet virtually every week for a book club. We will be reading the Magician's Nephew by: C.S. Lewis. The meeting will take place via zoom and last from 7 – 8pm. If you are interested in joining the book club please message me at hannahb@stlukes-sa.net for more information!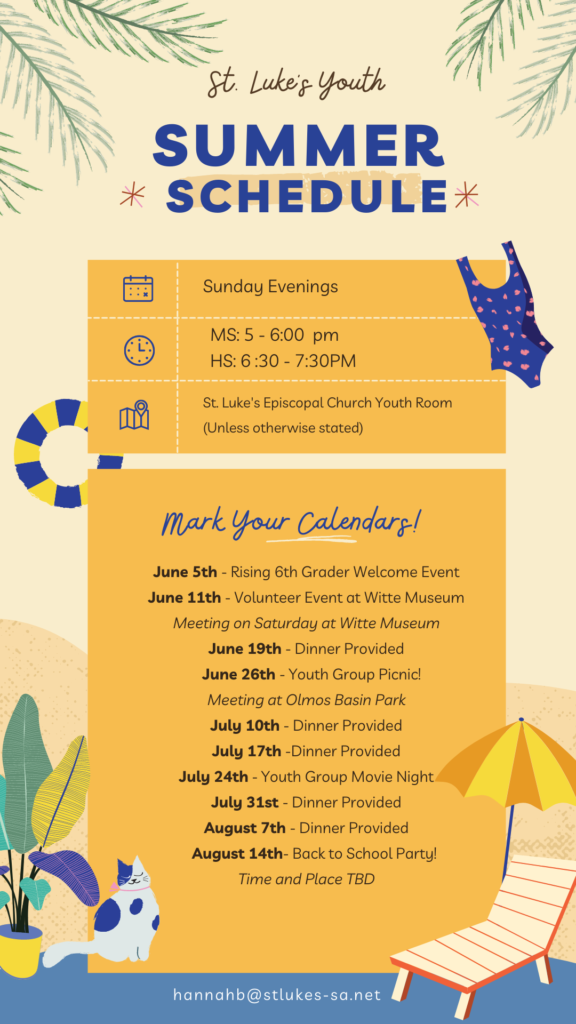 Join our Youth Group Team!
We always need more volunteers to staff our many formation programs. Want to help, but don't know how? Would you like to work with a certain age group? Want to work behind the scenes, but not with the children? There are opportunities for all, whether you wish to serve once a week, once a month, or once a year.