St. Luke's children, youth, and family ministries show Christ's love through the following values:
Inclusivity – Striving to love others as Christ loves us; all are welcome.
Intentionality – Building the kingdom of God by purposely engaging with the church and surrounding areas through consistent programming and events.
Service – Reaching outside ourselves by engaging the community, meeting people's needs, and spreading the gospel with our hands and feet. 
***
Children in Worship
At. St. Luke's we wholeheartedly encourage children to be in worship with their families. We believe children learn to worship within the community of faith; which includes all of us. We recognize that children might get the wiggles and feel the need to move about during worship; please know that is ok. To help you during these times, we have provided a "Kid's Corner" station in the Narthex. There you will find Children's Worship Folders, crayons, books and helpful tips.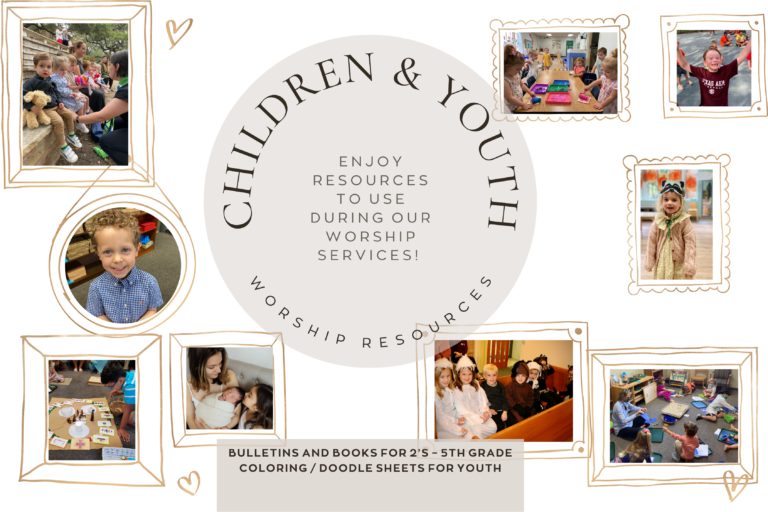 Look for our Children & Family Worship Resources Station in the Narthex as you enter. You'll find children's bulletin designed to correlate with the lessons being read during services each Sunday and a bin of books to choose from with toddlers through elementary ages in mind. Please enjoy these resources to use during our worship services!
***
Nursery Care is available from 8:30 – 12:15 for infants through 4-year-olds. Throughout the morning, our loving nursery staff reads terrific bible storybooks and good literature, lead singing, and have centers open that invite open-ended play including art, drama, sensory, library, blocks, sensory, playdoh, and more.
Nursery News! Starting September 10, we will have two nursery rooms! Our idea is that Infant-2's will be in the Shepherd's room (103) while the Preschool room for children ages 3-5 will be in the Angel Room (102) throughout the morning. Following the developmental needs of each age group, our loving nursery staff directed by Paula Guajardo prepares rooms that offer engaging play including story times and open ended art activities.
Preschool (ages 3½ -4): God's Love is Big! (Angel Room 102)
During our 10:00 am formation hour in the Angel Room (102), a nursery staff member will ring a bell to gather the children to a circle time for a bible story, time of wondering, and invitation to related activities and play. 
Kindergarten - 1st Grade: Godly Play - Taking Time to Wonder (Room 201)
2nd-3rd Grade: Godly Play - Going Deeper (Room 202)
Godly Play is a Montessori style of telling Bible stories, parables, and liturgical action about religious traditions using simple, natural materials. It invites the listener to connect faith stories with personal experience through wondering questions and open-ended response. 
Play/work is open-ended and creative. Children are invited to retell any of the bible stories or use art supplies and building materials to express their connections. Our schedule mirrors our Eucharistic format of hearing the Word, responding, and feasting. Kindergarteners are still welcome to be in the nursery and can be brought to and from this class as parents wish. 
4th-5th Grade: Journey Through the Bible Class (Room 215)
Throughout this year, the class will learn to navigate the 27 books of the New Testament learning the reason each book was written, the summary and wild facts along the way. Each child has their own journey box and bible for this adventure. On this "journey" together they enjoy Bible Jeopardy from time to time and end each year in a culminating event that includes a Bible Jeopardy game of students vs. parents. Breakfast tacos and lemonade are included each week!
Baptism is the initiation into the Christian faith. Through water and the Holy Spirit we are baptized into Christ's death and resurrection. In the Episcopal Church we baptize people in the name of the Father, Son, and Holy Spirit. Baptism is full admission to Holy Communion, regardless of age.
If you would like to inquire about baptism for yourself or your child at St. Luke's, contact our Ministry Associate Sara Spreen at saras@stlukes-sa.net.
During the Peace the priest will say a special prayer of blessing for new infants in the congregation on the first Sunday they attend.
In February, two-year-olds and their families are invited forward during the 9 am and 11 am services for a special prayer and for the presentation of a Bible.
5th Grade Bible Presentation / Step Up Sunday
Graduating 5th graders and their families are invited forward during the 9 am and 11 am services for a special prayer and for the presentation of a Bible. Afterward, as a rite of passage, the graduates are invited to our youth room to add their handprints to our wall.
Offered every Fall. Children are led in discussion and demonstration of what we do in worship and why. As a culminating event, families are invited to sit up front and come forward during communion as each student receives a special blessing and recognition during their "first communion" of our 11 am worship service.
Children & Family Email List
Want to hear more about what's happening in St. Luke's Children & Family Ministry? Join our weekly email newsletter!
---
By submitting this form, you are consenting to receive marketing emails from: St. Luke's Episcopal Church. You can revoke your consent to receive emails at any time by using the SafeUnsubscribe® link, found at the bottom of every email.
Emails are serviced by Constant Contact
Join St. Luke's Monday Moms' Group for friendship, fellowship, coffee talk, and book discussions. Meetings are on Mondays beginning September from 9 – 11 am in the church Parlor. Breakfast and childcare are provided by our nursery staff. Friends, neighbors, and non-members welcome! Connect with us on our Facebook page.
DWTX Formation Resources for Children & Youth
Visit the resource guide created by our diocese's Christian Formation Committee to find Bible and book recommendations, studies and links to sites that empower you and your children in your faith journey as a family and more.
Where do you find that what you love to do meets a need?
As we head into the Fall semester, where is God leading you to use your time, talent, and treasure? Much of our planning under our Children and Family Ministries umbrella involves a wide variety volunteer needs.
Please prayerfully take a moment to email me or complete this short survey to mark your interest and then I will contact you to discuss options. You may even have an idea of how to contribute that is not mentioned! Your ideas are welcome, especially because everything we do is truly about relationships. I would love to talk with you.
Have questions not covered above? Email the Director of Children & Family Ministry, Kris Spilker, below.